Home Forum Events Features Shop Charity Contact
Mk7 Golf GTE 2015 review
April 2015
An electric Golf GTI? Kind of. You hear the phrase 'consumer demand' often used to describe or excuse retailers latest attempts to sell us something. Strawberries shipped from the other side of the world so that we can have them all year round - allegedly because we 'demand' it. So who demanded an electric-hybrid-sort-of-Golf GTI? My guess, is nobody. Technology for the sake of it? Lets see...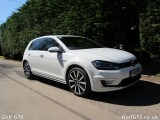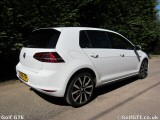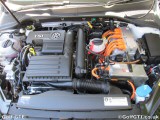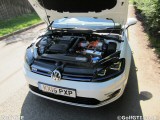 Visually it certainly looks a lot like a GTI or GTD and of course that is no bad thing. Mk7 GTI/GTD and now GTE styling subtly different and yet the same strong look. Get inside and it's more of the same. The seat cloth has a bright blue stripe where you would see red or silver in its brothers. The rev counter has been shrunk inside a new Hybrid Drive Power Display. I have GTE and e-mode buttons but that's about it for variation. You can only have your GTE with 5 doors for no obvious reason. Must be that 'demand' thing again.
When I drove a selection of GTI and GTD models last year, the various combinations of DSG/manual, keyless/real key and how they work with other features like the electric parking brake got a touch annoying. Now clearly, you get used to the car specification you have personally chosen but here, well, it all appears more seemless. Unlock the car, get in, foot on the brake, press the start button and.... nothing. No, hold on, it says 'ready' on the dashboard. Total silence. Put the DSG selector into drive, the handbrake will automatically release, onto the accelerator and it's nothing but the sound of tyres on tarmac as off we go.
It's a bit weird, that's for sure. What happened to some sort of fake external noise selector?! Out on the road, once you are moving with greater speed, more noise is naturally created but you certainly feel you could do some awesome stealth maneoveurs. Floor it from a junction and it moves that's for sure. I think the silence is still the element of surprise. Get stuck in traffic and it just so easy to creep along.
The hybrid system has four modes, plus the tempting GTE button:
- E-mode forces the car to only use the battery until there is no more.
- Hybrid Auto lets the car do it's own management thing.
- Battery Hold keeps the current electric range constant.
- Battery Charge deliberately charges the battery as quickly as possible.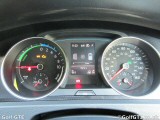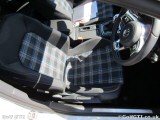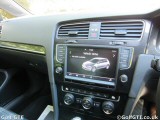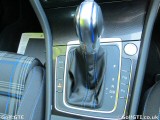 After driving in E-mode, I switch the car to Auto and the engine seemlessly starts up. Ah, mechanical noise. Now the car looks after itself with regard to the split between energy sources. Running as just the petrol engine it does a decent job of things. I mean 150 'horse-power' isn't terrible and it's even got a certainly throaty resonance like it's more powerful friends. Never mind all that though, push the button!
GTE mode on, I now have 204 PS of 'system output'. OK, it's not going to pin you to your seat with the incredible acceleration but things are very good indeed. I also have fauxnoise to make me feel better and enough clout when you floor it to definitely convince you are in a 'hot hatch'. As I continued to drive in perhaps more the spirit of the GTI, the more it impressed. Hybrid eco nonsense can make you smile!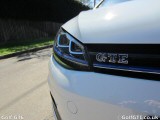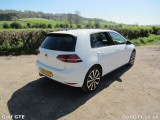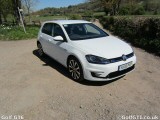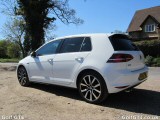 What's the score though really? What do I want one of these for? This is where it all gets a bit tricky. As of April 2015, you can still get a government funded £5k discount on your Golf GTE. How does that make the pricing look:
- Golf GTE 5dr DSG - 204 hp - £28,035 (includes 5k grant)
- Golf GTI 5dr DSG - 220 hp - £29,570
- Golf GTD 5dr DSG - 185 hp - £29,005

Company car driver who has a thing for BIK? It's such a clear winner. For a private buyer it's definitely going to take some working out. A wall mounted home charge station can be had for around £200 installed. Again, this is subsidised to the tune of £700. A fascinating option, is to not bother ever plugging it in and just let the car manage the battery recharging itself! It's sure to not be the most efficient use but it's one way around congestion charging. If you do plug the car in to charge, it's going to take 3.75 hrs from your normal mains outlet or just over 2 from a home charge point.
I really don't know what to conclude on the GTE. It's a hell of a try that's for sure. Up against the latest GTI, it's not quite there, somehow missing a certain excitement. As a GTD rival it's very tempting, especially now that diesel seems to be turning into some evil fuel that may well be taxed to death in the coming years. In fact, I do know what my problem is here. It's the five door only and weird colour palate that's my issue. For some reason you can only have your GTE in very muted shades. Must be what electric car buyers demand. If I could have a 3dr tornado red GTE with 19's I would be very tempted indeed...
An independent site for Volkswagen Golf GTI enthusiasts.
GolfGTI.co.uk is in no way associated with Volkswagen UK.
Site content © 1999 - 2021 GolfGTI.co.uk - All rights reserved - Privacy policy