Home Forum Events Features Shop Charity Contact
Feature - Limited editons - mk2 Golf Fire and Ice
In 1990 VW released, to the German market only, the mk2 Golf Fire and Ice.
All were finished in a very dark purple metallic and had probably the most outrageous interior trim VW have ever made!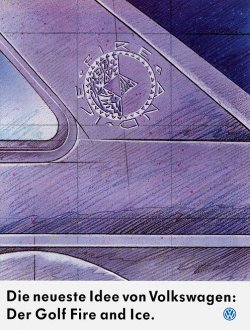 According to this German site, approximately 2,500 Fire and Ice models were produced in the following variations:

1.8 90bhp - 2,000

1.8 107bhp 8v GTI - 200

1.8 129bhp 16v GTI - unknown made

1.8 160bhp G60 GTI - 70

1.6 80bhp TD - 60

As you can see, most were the standard 1.8 version. All other engine options were "special order".








The specification of the Fire and Ice models was as follows:

Metallic lacquer paint finish "Dark Violet pearl"

Green tinted glass

15 inch "Estoril" alloys with 185/55 tyres

Double headlight grill with black VW badge

Colour coded big bumpers with deep front spoiler

Clear front indicators and darkened rear lights

Large Fire and Ice logo on the rear quarter panel

Pink (!) rear "Golf" badge

Height adjustable sports seats

Seats and trim panels in custom Fire and Ice cloth

Various interior Fire and Ice logos








Own one? Why not tell us about it on the forum.


An independent site for Volkswagen Golf GTI enthusiasts.
GolfGTI.co.uk is in no way associated with Volkswagen UK.
Site content © 1999 - 2021 GolfGTI.co.uk - All rights reserved - Privacy policy