Home Forum Events Features Shop Charity Contact
The infamous TVRGolf
Part 1 - October 2004
Ok, so you have probably heard this car mentioned on the forum and maybe seen some of the early pictures of it. Seeing it up close at the Newark-on-Trent meet held on the 10th October 2004 was something else.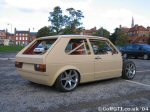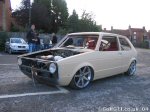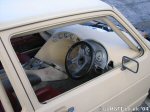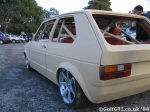 Once it's finished, expect a proper review and lots more pictures but for now these should get you going. Parked next to a 'normal' mk1 you can see just how much wider the TVRGolf is. Yes that is a full TVR engine and running gear in a mk1 shell - just about!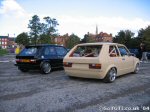 Part 2 - April 2005
Jo has been busy working his magic on the TVRGolf project. Shortly to be painted - once he decides on a colour - and hopefully tearing up the road soon.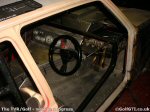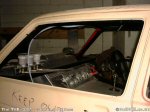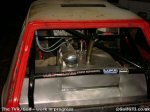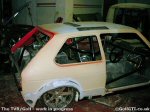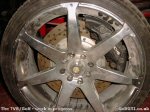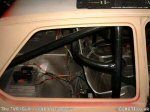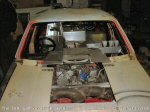 Part 3 - June 2005
Jo has now finished the paint work on the TVRGolf monster (after it's recent GTI International outing in primer) and it looks totally stunning!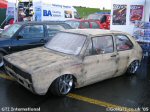 Now it looks like this and yes it is that low that the door hits the kerb! Amazing work Jo :)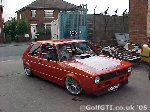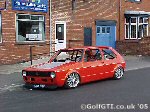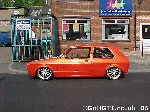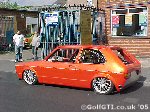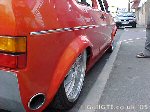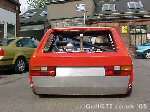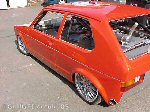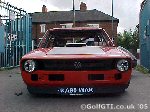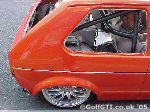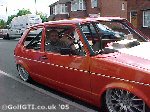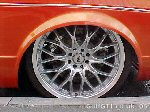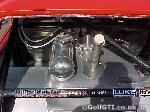 Part 4 - July 2005
On track at last! Jo brought his TVRGolf down to Bruntingthorpe test track for a photoshoot with Golf+ magazine. Would have been rude not to tag along for the day. Much time was spent stuck in a hangar waiting for the rain to stop. When it finally did in the late afternoon a few track laps were quickly fitted in. The turn we stood watching from featured plenty of oversteer comedy!

Expect to see the car in the October 2005 issue of Golf+, it will be essential reading.

Small video clip of the car in action.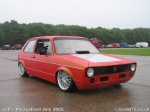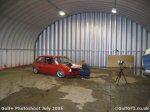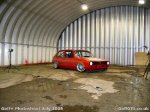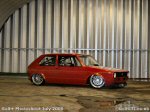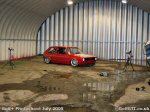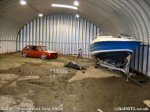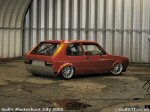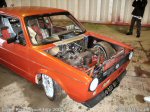 Part 5 - September 2005
After a superb weekend at Edition38 I thought I would add an extra section on the mighty TVRGolf. This car still creates more attention and amazement than any other at a dub show. It's rare to see the car not looking something like this: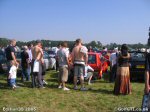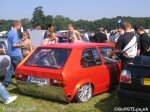 All of the forum crew that were at E38 were disappointed that Jo's car didn't win a trophy, especially after this team polishing effort!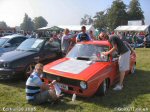 A big thanks to Jo for suggesting the GolfGTI.co.uk branding on his car :)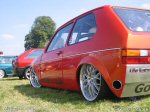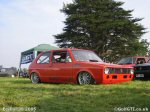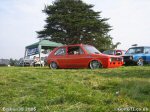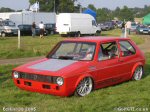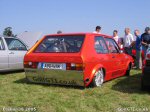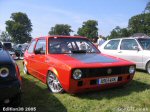 Part 6 - February 2006
Another magazine appearance, this time in Redline.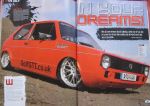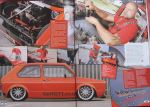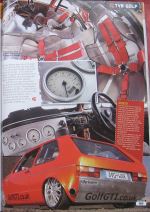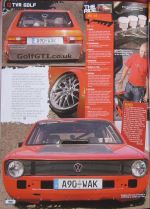 An independent site for Volkswagen Golf GTI enthusiasts.
GolfGTI.co.uk is in no way associated with Volkswagen UK.
Site content © 1999 - 2021 GolfGTI.co.uk - All rights reserved - Privacy policy