Home Forum Events Features Shop Charity Contact
Mk1 Golf GTI standard versus modified
May 2006
So what to do if you like both the idea of a restored mint condition mk1 GTI but also want to do a bit of modification work? Easy, just have 2 cars! I recently saw Darren's cars at Stanford Hall but didn't at the time realise they were both his. I'll leave him to do the talking now:
APM 364Y - 1983 Golf GTI
This car has covered 83,000 miles from new and has all old M.O.T certificates.
Massive history file, standard spec.
Edition 38 best top 10 car, VW Action 30th Birthday top 10 winner, VWM 5 page magazine feature.
The car has been owned by me for about 3 years now and is kept in original condition as far as possible. I have replaced the sunroof panel and had the roof resprayed, wheels refurbished and a new genuine VW windscreen fitted. The car is still driven to all shows and not trailered! The car has been kept in such good condition mainly due to low mileage use and always being garaged over the last 16 years (that I know of). Not much more to say really - It's a classic car but with today's performance. EVERYONE SHOULD HAVE ONE!!!!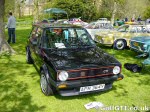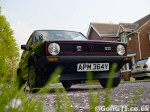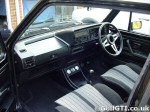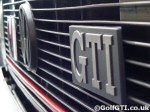 A403 YMO - 1983 Golf GTI
Side metal strips deleted and swage line welded and filled
- Boot lock and wiper deleted and smoothed
- Number plate lights deleted and replaced with micro LED's
- Coilovers
- RH cups with Toyo tyres
- Leather Audi TT front seats
- Custom made rear bench (Audi TT look) with genuine Audi leather
- Custom leather door cards in genuine TT leather
- Custom made gear and handbrake surrounds
- Audi TT Bose speaker system
- 9 ball gear knob
- Isotta leather steering wheel
- Cross hair headlights, clear front indicator lenses and M3 type rear clusters
- Smoothed scuttle panel
- Full respray in Lhasa green with genuine new front wings and bonnet
- Deluxe badge on front grille
- Audi slide and tilt sunroof with Golde sunroof winder
As you can see from the list above many hours of work have gone into this car and there are still many jobs to do (including a new engine, G60? 16V? not sure yet!) This car has a full history file with receipts for everything ever spent including original bill of sale and even the first tank of petrol purchased! The work has been completed to a very high standard and I hope this show's from some of the pictures. This car, although having covered 190,000 miles still drives like a modern car and keeps up with most of them! It's a piece of German brilliance but with some English additions and deletions.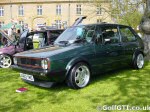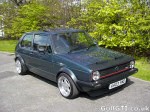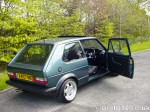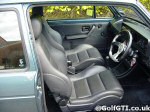 An independent site for Volkswagen Golf GTI enthusiasts.
GolfGTI.co.uk is in no way associated with Volkswagen UK.
Site content © 1999 - 2021 GolfGTI.co.uk - All rights reserved - Privacy policy