Home Forum Events Features Shop Charity Contact
WRC-Tech Rolling Road Day 2005
Silverstone, Northamptonshire, UK
A long overdue club rolling road day was held on the 26th November at WRC-Tech based at Silverstone circuit. Review and photos by forum member gtijoe:
"It was a crisp frosty morning for many as they set off early to get to Silverstone. All the hard work cleaning was a bit of a waste as we all turned up with cars covered in road filth!
There was a good turn out with over 20 members making the journey and the weather, while cold, was pretty good and the rain/snow held off.
The rolling road day was held at WRC-Tech and after a brief introduction from the owner it was time to get down to the scary task of getting our cars on the rollers. The guys gave each of the cars a quick once over to make sure there wouldn't be any problems and as the first golf was reversed back into the dyno everyone crowded round to watch the monitors!
Each car was given as many runs as it needed to get an even power figure, in most cases it only needing three runs but some taking seven or more.
While cars were being run it was a good chance to meet a few new people and catch up with the regulars. It was the forced induction guys who really stole the show with Topher coming in tops with over 200bhp from his Rallye - nice one Chris! After the cars had done their runs, we headed off to a pub down the road for food, drink and more socialising. For many it was talk of more tuning, engine conversions and many future plans were developed!
As darkness crept in we all went our seperate ways but it was an excellent day so thanks to everyone for turning up and thanks especially to Tesh and JV for the organising and WRC for their time and expertise. The general feel was that this could become a regular addition to the golfgti.co.uk calender of events!"
You can see the
results here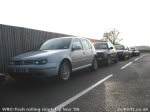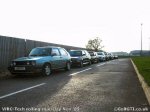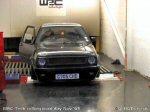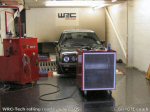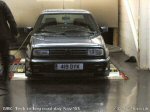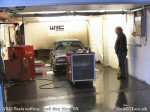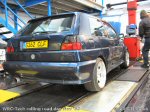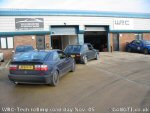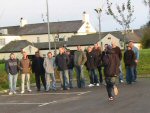 An independent site for Volkswagen Golf GTI enthusiasts.
GolfGTI.co.uk is in no way associated with Volkswagen UK.
Site content © 1999 - 2021 GolfGTI.co.uk - All rights reserved - Privacy policy